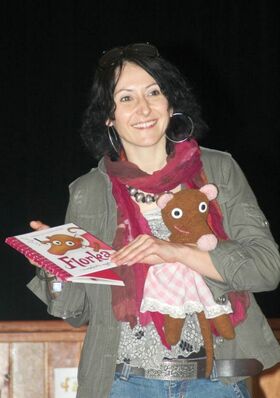 Roksana Jędrzejewska-Wróbel, 1969-ben született, több mint húsz, számos alkalommal díjazott gyerekkönyv szerzője. Rendszeresen együttműködik a Świerszczyk és a Miś című gyereklapokkal. Polonista, Kazimiera Iłłakowiczówna leveleiről írta doktori disszertációját.
Néhány megjelent műve:
Siedmiu Wspaniałych i Sześć Innych nie Całkiem Nieznanych Historii (2010)
Florka: Z pamiętnika ryjówki (2008; a sorozat két további része is megjelent)
O słodkiej królewnie i pięknym księciu (2008)
Sznurkowa historia (2004)
Magyarul megjelent műve:
Itt vagyok! Az emberi élet első hónapjainak képes története. Koncz Éva ford. Budapest: Kairosz, 2003.
Ad blocker interference detected!
Wikia is a free-to-use site that makes money from advertising. We have a modified experience for viewers using ad blockers

Wikia is not accessible if you've made further modifications. Remove the custom ad blocker rule(s) and the page will load as expected.