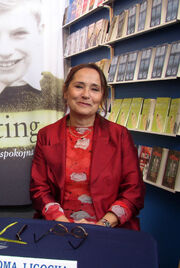 Roma Ligocka, szül. Roma Liebling, 1938. november 13-án született Krakkóban, festő, jelemztervező és író. Zsidó családba született, a krakkói gettóban, majd később egy lengyel családnál rejtőzve édesanyjával élte át a háborút, míg édesapja a plaszowi koncentrációs tábor foglya volt. Még a gettóban vették fel a Ligocki nevet. A krakkói Képzőművészeti Akadémián tanult festészet és díszlettervezést, jelentős sikereket ért el díszlettervezőként színházi, filmes és televíziós munkáival is. Férjével, Jan Paweł Biczycki színésszel és rendezővel 1965-ben Münchenbe emigráltak. Roman Polański filmrendező unokatestvére. Leghíresebb műve a Dziewczynka w czerwonym płaszczyku, melyet a Schindler listája című film piros kabátos kislánya ihletett, akiben magára és saját gettóban töltött gyermekkorára ismert a szerző. (A filmben nem szándékos az utalás, de kislányként maga is a piros kabátjáról volt híres a gettóban.)
Megjelent művei:
Dobre dziecko (2012)
Księżyc nad Taorminą (2011)
Róża (2010)
Czułość i obojętność (2009)
Wszystko z miłości (2007)
Znajoma z lustra (2006)
Tylko ja sama (2005)
Kobieta w podróży (2002)
Dziewczynka w czerwonym płaszczyku (2001)
Ad blocker interference detected!
Wikia is a free-to-use site that makes money from advertising. We have a modified experience for viewers using ad blockers

Wikia is not accessible if you've made further modifications. Remove the custom ad blocker rule(s) and the page will load as expected.