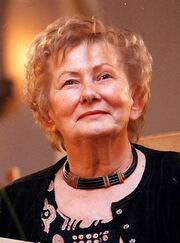 Urszula Kozioł, írói álnevein: Antoni Migacz; Mirka Kargol; Faun; U.K.; Uk; Uka; UKA, 1931. június 20-án született, költő, próza-, tárca- és drámaíró.
Versei a Nagyvilág 2007-es Wrocław-összeállításában
Tűnődés című verse a Korunk 1973. októberi számában (1539.o.)
Ad blocker interference detected!
Wikia is a free-to-use site that makes money from advertising. We have a modified experience for viewers using ad blockers

Wikia is not accessible if you've made further modifications. Remove the custom ad blocker rule(s) and the page will load as expected.