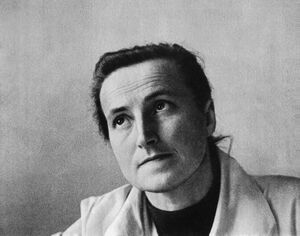 Wanda Półtawska, szül. Wojtasik, 1921. november 2-án született Lublinban, pszichiáter. Ravensbrücki túlélő; az először 1962-ben megjelent I boję się snów című visszaemlékezése a lengyel lágerirodalom egyik ismertebb műve. Az 1950-es évektől kezdve II. János Pál közeli barátja volt. Több konzervatív-katolikus szellemiségű írása is hozzáférhető magyar nyelven, Magyarországon is tartott előadást.
Nők a Gonosz elleni küzdelemben - előadás Krakkóban a Regnum Christi éves női konvencióján
Ad blocker interference detected!
Wikia is a free-to-use site that makes money from advertising. We have a modified experience for viewers using ad blockers

Wikia is not accessible if you've made further modifications. Remove the custom ad blocker rule(s) and the page will load as expected.