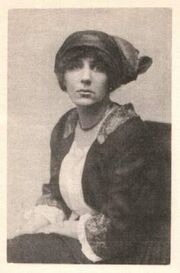 Zofia Nałkowska, 1884. november 10-én született Varsóban, 1954. december 17-én hunyt el ugyanott, próza-, dráma- és újságíró. A Powązki Katonai Temetőben nyugszik.
Néhány megjelent műve:
Medaliony (1946; elbeszéléskötet)
Niecierpliwi (1938; regény)
Granica (1935, regény)
Dom kobiet (1930, dráma)
Dom nad łąkami (1925; önéletrajzi regény)
Kobiety (1906; regény)
Magyarul megjelent műve:
Vallomás. Mészáros István ford.; Kass János illusztrációival. Bratislava: Szlov. Szépirod. Kiadó - Budapest: M. Helikon, 1965. (elbeszélések a holocaustról)
Ad blocker interference detected!
Wikia is a free-to-use site that makes money from advertising. We have a modified experience for viewers using ad blockers

Wikia is not accessible if you've made further modifications. Remove the custom ad blocker rule(s) and the page will load as expected.